"Diem,
I wanted to truly thank you for an absolutely amazing job. I loved my hair and makeup so much and the girls looked fabulous. I would never hesitate to recommend you to other brides. Thank you again!!!!"- Erin
Sent at 6am.
Yes.. I said it… 6am the morning after Erin & Peter's wedding! I woke up in shock because normally I'm the one with the follow up email. It's the small things like this that makes me love what I do even more. Thank you Erin for letting my team and I be a part of your big day! 
So what's there love story?
"I've always believed that everything happens for a reason. In the summer of 2009, I was an intern at a Chicago law firm; Peter worked at the same firm as a project assistant. We e-mailed each other numerous times throughout that summer because Peter was assisting me on a project, but we never met face to face. I often saw a handsome blonde guy at the building's fitness center, at the time not realizing it was Peter.
As the summer ended, and the school year at Northwestern University School of Law began, I was stunned to see the same blonde guy working out at the gym near the law school. I thought to myself, 'This guy is gym stalking me!' We officially met through Northwestern's Social Committee, where we realized who each other was. A few weeks later, Peter came to a party that I invited him to, and we have been an item ever since.
Peter proposed on the Kinzie Bridge with a gorgeous view of the Willis Tower in the background. We both love Chicago and wanted it to be a very important guest at our wedding! Our cocktail hour and reception were held in the Willis Tower with stunning views of the city from breathtaking heights. Guests enjoyed signature cocktails such as 'Chicago River' and 'In the Loop' and dined upon wedding cake with a Chicago skyline design. Table markers were various Chicago landmarks, and instead of a traditional guestbook, we had a custom-made poster with the Willis Tower on it that guests could sign.
We wanted our guests to feel pampered and special.  We provided transportation from our ceremony location to our reception location, and the shuttle drivers took guests on a tour of Chicago, complete with DIY itineraries made by Peter! Our wedding day was truly one of the best days of my life.  I love Peter so much, and I'm thrilled that our friends and family loved our classic Chicago wedding." – Erin
Enjoy their wedding photos below::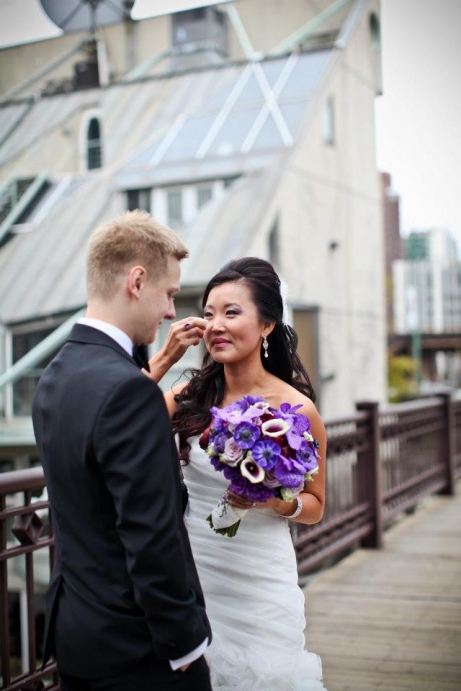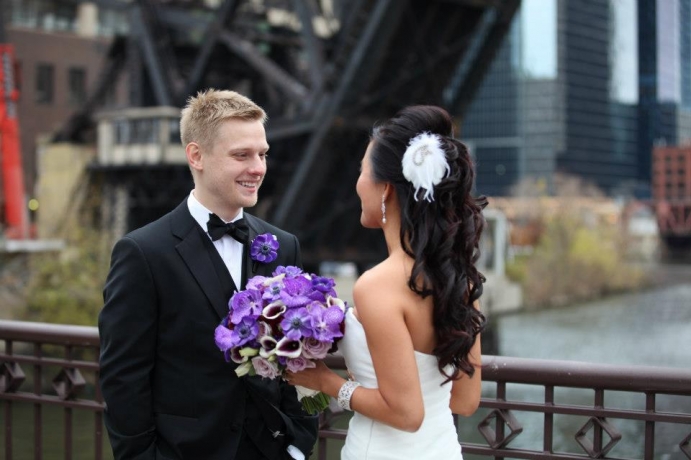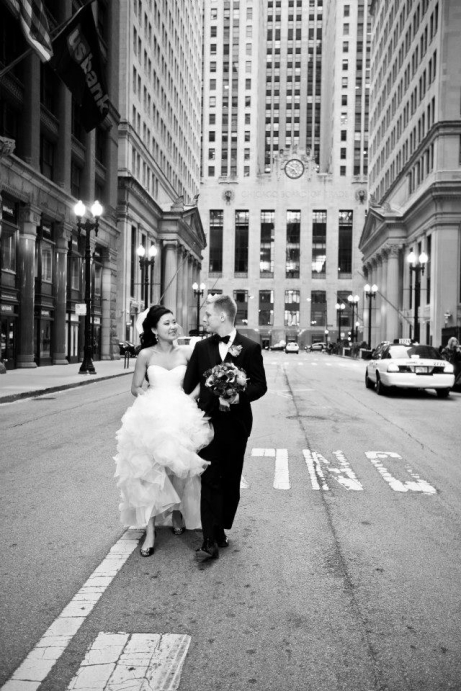 VENDORS that made their wedding happen:
Ceremony Location -Alice Millar Chapel // Reception Location– Metropolitan Club // Dress– Ultimate Bride // Bridesmaid Dresses– Dessy// Hair and Makeup– Diem Angie Nguyen & Team// Formalwear– Hugo Boss// Flowers-Flor del Monte// Invitations– Erickson Design// Lighting– Non-Stop Entertainment// Music– Non-Stop Entertainment// Planner -Just Say Yes Events// Photography – Cristina G Photography // Videography – Non-Stop Entertainment