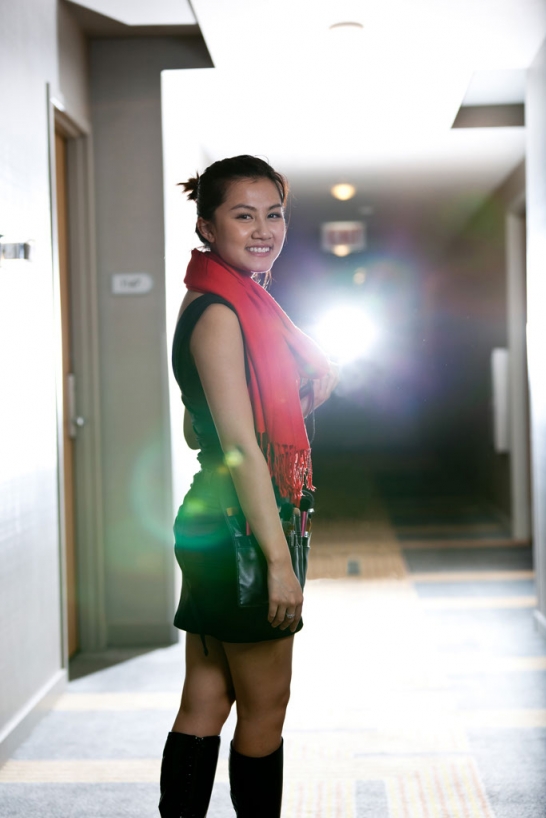 Here are testimonials from models & photographers who have attend my Chicago Models-Photographers- Hair & Makeup Meetup : Thank you guys for your kind words!
First of all Diem Angie Nguyen is one of the best make-up/hair Artist here in the Chicago land area. Her work is simply flawess and beautiful. As a photographer it's nice that I don't have to touch up if it's done right it saves a lot of time. She gets it right all the time!!! Her meet-ups are new, fun, and exciting just as she is. It's a great place to learn and grow from other photographers. You get a different experience everytime. It's a great positive energetic vibe that you get at these events. I can't wait for more to come!!!! Thanks Diem:) you're the best!!!!!
I attended Diem's second Model and Photographer workshop and was very pleased with the organization and professionalism of Diem and her team of stylists. They did a fabulous job with all the logistics and planning of the event, down to the smallest detail. There we're tons of models, great sets, the makeup and hair styling and wardrobe were flawless. It was a pleasure working with them and I will definitely keep them in mind for any future projects I'll be working on.
eugenefelix! photography
eugenefelix.com
"The best perfumes come in a small bottles.
And the most dangerous poison as well."
However it may seem strange, Diem brings right away to my mind this brazilian saying.
Probably because you never imagine this (your height here) woman can be one of the most powerhouse for work that I ever met.
Restless, as a hostess of her seminars/meet ups, to let everyone feel more than welcome.
She doesn't measure efforts to make everything become perfect in organization and quality of choices.
And beyond that, a KILLER with her Art for Make Up, improving beauty, even though where you couldn't see how come it can happen.
Thank you Diem for the AMAZING experience on our last meeting. Looking forward to have my name on your list again!
________________
Diem is absolutely one of the best make up artist I've ever worked with. Let start with the physical looks, she has the looks that could be mistaken for an Asian model. In terms of her hair and make up skills, I was mesmerized on how she did the models' hair and make up. On the day of the shoot, some of the models were even late, so she has to do the hair and make up in such a short time. But she never panicked and the hair and make up were appropriately done. In addition, you wont feel stressed out when she is doing her thing. At the end of the day, the shoot went perfectly fine, the photos were brilliant and more than half of the success should be credited to Diem's skillful hands… Will definitely worked with her again. For the rest of models and photographers, get this girl for your next shoot, rest assured, it will add ten pounds of elegance on your photos.-Kerwin
________________
Diem is a mulit-talented tour de force in the Chicago modeling and fashion scene. While she is clearly an emerging beauty behind the camera, Diem is equally talented as a make up artist and has also demonstrated organizational and motivational skills that make other models and photographers gravitate toward her. If you have the chance to meet or work with Diem, take it!- Chris Martin, Midwest Ethnic Models
Legendary Lotus Photography by Stacy Marie
I have worked with Diem on two workshops up until now and still anticipate the next one! She is extremely organized and makes sure to think of everything in detail! Her incredibly sweet personality and beautiful make-up/hair abilities on top of finding perfect locations to assist themes is phenomenal to say the least! I love working with her and cannot wait to see what she will come up with next!
Five stars!!!!!! ; ] – Legendary Lotus Photography by Stacy Marie
________________
Last October I had the great Pleasure of being apart of Diems Photo shoot Church meetup and I cant thank her enough for having me be apart of it.
It was My first time Being In a group meetup shoot and I was nervous going In but as soon as I met Diem and everyone she had Involved, all my nervousness was quickly laid to rest. Diem was very professional and did a fantastic job of making sure everyone was well informed about the process of the shoot and in the right place. It is a tribute to her character that everyone she had involved with the shoot showed the same excitement, warmth, and professionalism, that she herself has. Never once was there any concerns or confusion to be had. The whole shoot was without a doubt, one of the best experiences I have had working with a group of people. Once again that Is a tribute to Diem, she immediately makes you feel welcome and apart of the process. I cant Thank her enough for such a wonderful experience.
________________
I had a great time at the meetup! met great models and photographers. and of course Diem, she's great! managed us all to work with different models at different times and rooms. Great learning experience!! I'll do it again!!
________________
Overall,
The meetup was a new and fun experience for me. I learned a lot during the shoot, for example how the level of your confidence brings out the best in your photos and how different lighting creates completely different settings. I've never done anything like this before and so everything was totally new to me. I was a bit shy at first, to be honest, because I had no idea what I was doing. But then after a few attempts, I just decided to have fun with it ! Every photographer that I worked with was amazing and unique in their own ways. They were all nice and easy to work with. I wish I was able to work with them all ! Most importantly, this all wouldn't have even been possible without Miss Diem : ). Diem, you did a great job at managing everything from the makeup, to hair, to settings, and everything ! It amazes me to see how hard you work to create such an awesome experience for all of us that day. All the models were beautiful, photographers were friendly, videographers were awesome at capturing all the fun moments, and hair & makeup was amazing. Thanks for letting me be a part of this wonderful experience Diem !-      Jenni Mai
________________
My experience with Diem Nguyen throughout the model meetup and any time other than that has been nothing but extremely pleasant and over the top awesome! She makes everyone feel important, safe and best of all, sexy! She is such a talented makeup artist and held her own while planning this meetup. Everything was organized and together in the most perfect ways. She kept high spirits although the day was crazy and was open to making sure everyone was confortable and having a wonderful time. Diem, you did a hell of a job! I cannot WAIT to work with you again!!
________________
I attended Diem's event and it was a HUGE success. She had thoughtfully planned everything so perfectly that it was clear she had everyone in mind. Everything ran smoothly and we were able to meet with wonderful and talented photographers. Everyone gained plenty of experience on her event and I would gladly do another.
I think the fact that Diem was able to hold this event and run it the way she did says alot about her and a person of such talent. She will be going very far in life and you can see it in her charisma, she's amazing.
________________
I had a really great time at the meetup. It was awesome to work with so many photographers and models (as well as one very talented makeup and hair artist) at once. Even though everyone was wearing the same outfits, makeup and hair the whole shoot, it was great to see such a wonderful variety of photos and looks from each group. I loved working with everyone, it was a great learning and networking experience and I would definitely do it again.