Chicago Bridal Hair and Makeup Artist, Diem Angie 
What it is formulated to do:
This more powerful version of the Dr. Dennis Gross Skincare Alpha Beta Daily Face Peel provides higher concentrations of Alpha Beta® Acids—plus new anti-aging boosters that deliver a stronger peel without added irritation or recovery time. Especially suited for stubborn skin conditions that have not responded favorably to other anti-aging treatments, this peel diminishes fine lines, reduces pores, and treats breakouts. Regular use can visibly improve dark spots and skintone. Easy to apply, simply sweep the pre-soaked cotton towelettes across the face according to the two-step system.
What it is formulated WITHOUT:
– Parabens
– Phthalates
Research results:
Visible improvement in:

– 92% Firmness and radiance*
– 88% Minimized pores*
– 82% Skin tone and spot reduction*
– 96% Makeup application and longer wear*
– 86% Increased hydration*
*Results based upon a 28 day consumer study. Safe for All Skin Types & Skin Tones
– 100% agreed the formula was gentle and fit easily into their regular beauty routine
– 96% of users reported their skin looked more youthful and glowing
I am in love with Dr. Dennis Gross…. (Skincare Extra Stength Alpha Beta Face Peel!).. LOL!
My esthetician, Janice Cook had recommend me this product and I bought it without thinking twice. Yes, the price is steep ($86 for 30 pads.. average around $2.8o a pad)  but whatever Janice recommends ill buy. She's the expert and trust me, this girl knows her stuff!!!! My face is looking flawless because of her!! If you are looking for a fabulous esthetician, go see Janice!! Want her info? Email me: diemangie@gmail.com
Look at my results in just 5 days!!!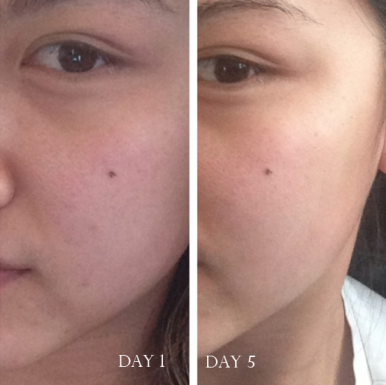 I have fair skin that is pretty oily and acne prone, and tends to be super-sensitive to harsh products.
 I have tried everything to get rid of my acne scars….. clarisonic, chemical peels, microdermabrasion,  creams— you named it.. I tried it!!!
 I was skeptical after the first treatment because i did not notice anything immediately, in fact it made my skin a little red and irritated looking. I however did not give up and gave it a second try. The next day it was obvious that my skin was much more even-toned, fine lines near my eyes smoothed out, and my whole face looked brighter, much smoother and my pores looked less noticeable!
I still have some acne marks on my skin but they are definitely getting smaller.
I haven't finish with my 30 days' supply but I foresee a bright and happy future ahead of me with this product!
My only regret about this product is that i didnt know about it sooner!!! If you are hesitating because of the price, definitely go for it! You wont regret it!