Chicago Bridal Hair and Makeup Artist, Diem Angie 
Hey love! I'm going to share with you one of my beauty secrets! My latest obsession… eyelash extensions!
 I'm a makeup artist .. I do it for a living. I LOVE makeup…. I make my clients look good.. but I'm a minimalist when it comes to wearing makeup on myself. Why? I'm acne prone and at the end of the day– I'm a grease ball. —yaackkk …
The "less is more/natural look" works better for me. It took me forever to feel comfortable with my imperfections.   I don't hate my blemishes/flaws as much (but there are days.. where I can't stand them)!  Trust me,  Life is better when you  don't have to stare in the mirror for 30 mins every morning.
 Waking up to fuller lashes is seriously one of the best things ever!!!  I usually never leave the house with concealer & mascara. With the lashes, I can walk out of the house with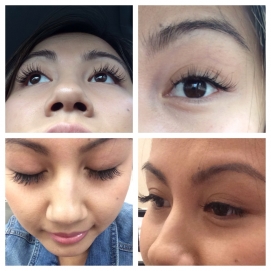 just tinted moisturizer!! Score!! The effect is so powerful! The best part? I get compliments from them all the time! 
 The only thing that I do not like about getting them done.. is having to get them re-done every 2-3 weeks!!!! If you do not go back for another session—your real lashes along with your extensions will start to fall off individually .
Don't worry!!!!! Your natural lashes fall off everyday.. You just notice the fallout more because of the extensions.   I can skip a few weeks without getting a mani/pedi but I cannot miss an eyelash appointment. There is something so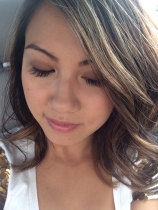 addicting with lush long lashes! sigh, .. and guess what? It is worth every penny and my time. I'm obsessed!
If you are looking for an eyelash expert—contact Lati from the Bridal Beauty Salon. Okay…. you might think I'm bias because I'm also at the salon.. but trust me on this one!! Treat yourself—and get some lashes!! They are seriously the best thing.. EVEER! Lati is the best in town and I only trust her with my lashes. You will feel 100% more beautiful!!
You can "wink "your way off to anything!
Love,