Chicago Bridal Hair and Airbrush Makeup Artist, Diem Angie Nguyen
I think Jennifer Aniston has the best skin in Hollywood, and I am quite jealous !!   At age 40, she continues to achieve a natural look and I don't blame her! Why pile on makeup when your skin is flawlessly tan?! I don't think I can picture Jennifer with dark makeup, but I would love to see her try it considering she is dating rocker boy, Justin Theroux.
Since I am not Aniston's makeup artist, I cannot pinpoint what makeup brand she is using, however we can still achieve her glowy look!
Beside a dab of foundation and concealer the trick is using the correct blush.
 But not just any kind of blush—you need one that with a dewy finish, which you can get with a powder with teeny tiny shimmer bits, or, more easily, with a cream like the ones you see below: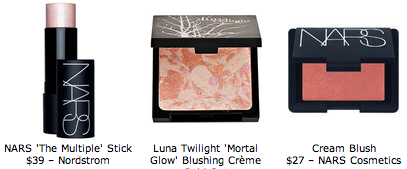 The trick  is to dab it on a foundation blush or with your fingers. Then blend just to the point where the edges aren't obvious and the color isn't blotchy–you don't want to rub it in too much or you'll lose the hint of wetness. It is easy as 1 2 3!
Got a pearly cream blush you're loving right now? Spill it in the comments.
For more information or to book Diem Angie Nguyen, please email her below:
[contact-form 1 "Contact"]