Chicago Bridal Hair and Makeup Artist, Diem Angie
 Concealer is the unsung hero of our makeup bag, however picking the right concealer can be daunting. After all, no one wants the reverse-raccoon look. You may as well hang a sign around your neck that says, "I'M WEARING CONCEALER!"  Take a look at these celebrities for example ( boy, there's a lot of them- Hopefully these makeup artists did their homework….or did they get fired??  ) :
What celebrity gave you the racko—ooning scare?  LOL, okay back to finding the perfect concealer & shade. 
 You actually need different shades of concealer for different parts of your face. So what's your shades? You can either pick a color close to your natural skin tone or a color-correcting concealer that balances out discoloration.
Lets first start out with: What are you you trying to cover up?
1 ) When choosing concealer to match your skin tone, start with half a shade lighter than your foundation (remember, your foundation should match your skin almost exactly) Pay attention to words like "beige" (pink undertones), "cool" (pink), "warm" (yellow/olive undertones), "neutral," etc.
2) If your main concern is dark circles, lean toward the yellow/warm family (test opacity against the blue veins inside your wrist) If you are covering major undereye circles, you're going to want a concealer that provides major coverage.
3) If you are using concealer for blemishes or dark spots, find one that is a shade lighter than your foundation and in the same undertone.
 The

C

O

L

O

R

T

H

E

O

R

Y

is your friend
Remember what you learned in art class..?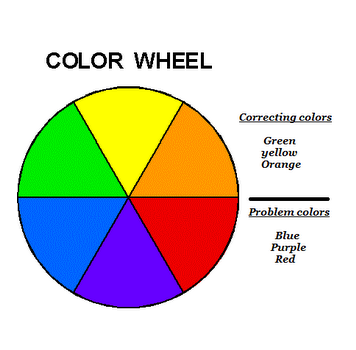 Understanding how color works is a very important part to makeup application.
**Primary Colors are the fundamental colors that cannot be obtained by any mixture. There are only three primary colors, Blue, Red, and Yellow.
** Secondary Colors are made by mixing equal amounts of two primary colors. Yellow + Red= Orange. Yellow + Blue= Green. Red + Blue= Violet.
 Still confused about the color wheel? I'll blog about that one next! 
 To neutralize purplish dark circles, choose a yellow or orange-yellow-based concealer. Fair skin tones, which are prone to more of a green-based undereye discoloration, can use a mauve-rose corrector. For sun spots or freckles, choose a peachy apricot, and for redness or blemishes, a green or yellow should do the trick.
TEXTURE AND APPLICATION
1) When it comes to texture, opt for a creamy formula (concealer stick or pot) on blemishes and dark spots.
2)For the delicate undereye area, you'll want something lightweight that doesn't crack—Smashbox High Definition Concealer has very little texture and blends easily).
3) If your dark circles are severe, a creamier consistency will cover best. (Steer clear from blending into your smile lines and concentrate the pigment on the inner eye and inside of the nose.
Finally, remember: concealer isn't a magic wand. The right shade and corrector can go a long way toward mitigating discoloration, but don't expect Photoshop results. It's still just makeup, and sometimes less really is more. Make sure you experiment! Remember:  You actually need different shades of concealer for different parts of your face.