Chicago Bridal Hair and Makeup Artist, Diem Angie Nguyen
There's one simple, tried-and-true beauty trick that I rely on to make my client's eyes  look bigger, brighter and more gorgeous! The title says it all!
It's the sideways "V" of light shadow in the inner corner of the eye. See?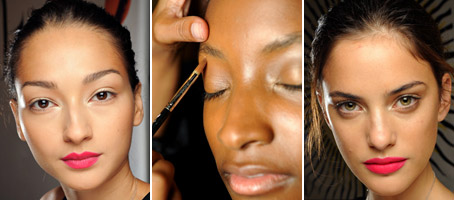 Below is a picture I found on Cargo Cosmetics that will demonstrate the proper way to achieve  this natural look. If you want to add color, don't be shy. Just remember to highlight the inner colors of your eyes to give it a "POP". You can use the same color underneath your eyebrows.
Stars that are rocking this trend:
Mila Kunis
The picture color is off and gives us a blueish feeling.. Not the best for representing Mila's makeup look, but this is an example of a bolder look. If you have big gorgeous eyes like hers, dramatize it!

Diana Agron
I think Her lashes are a tad to dramatic for this simple clean look however the sheer gold eyeshadow looks great on her! Remember, you can play  with color on your eyelids just keep it to your personal taste!

Tina Turnbow
I love her edgy bold look! Her makeup choices light up her face.

The idea is that the pale powder creates the illusion of light in that spot, which magically makes your eyes look more awake. All you have to do is dust a white, beige or other soft color right in the nook there and a bit in along your lash line on both your top and bottom lids.
For more information or to book Diem Angie Nguyen, please email her below:
[contact-form 1 "Contact"]