Chicago Bridal Hair and Makeup Artist, Diem Angie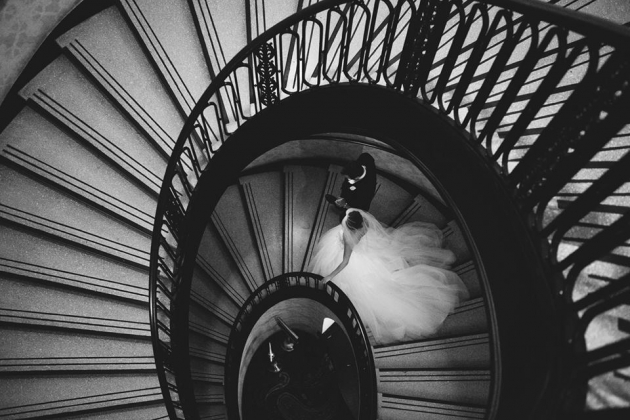 One of my most memorable experiences of last year was working with Karen and her bridal party for her wedding on the 18th of October. Cozying up at the Palmer House in the heart of downtown Chicago, I spent my birthday doing what I love on a crispy fall morning. Normally, I don't book clients on my birthday, as it is one of the few days to relax and dedicate some time for myself. However, when Karen contacted me with the opportunity of working together, I connected with her so much that I jumped at the chance immediately!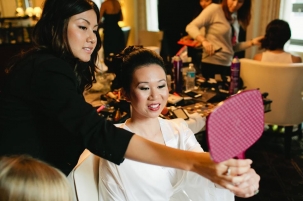 Karen and I ended up doing 2 trials before her big day. Initially, we went for a really natural and traditionally bridal look for her first trial. We realized that while it was very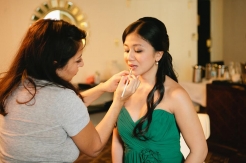 beautiful, we decided later to do a second trial, this time with bigger hair and a more dramatic, glamorous look to fit and reflect Karen's true style and personality. We both loved the end result!
Our team also made a lot of great memories with Karen and her bridal party. Check out all of the bridesmaids' dresses! I love how unique the idea was. They were all in different cuts and various shades of green, something that I think is very modern and expressive. Best of all, everyone had such eclectic personalities and contagious enthusiasm for the day and it was a joy to be in such a warm and exciting atmosphere!

Karen's wedding was definitely a fairy tale of the ages! Can we just pause and talk about how gorgeous her dress was? It was timeless and elegant, yet still full of personality. Karen exudes such effortless grace and glamour and her dress, hair, makeup and accessories coordinated well to reflect that. Not to mention her stunning smile!





Karen's happiness radiated on her wedding day and everyone can definitely see it a mile away. After the wedding, Karen and I met up and caught up, and still stay in touch because we connected really well with each other. I felt so lucky to have met Karen because not only did I meet an amazing client, but I've made a life-long friend. Thank you Karen and Patrick for having our team be a part of your unforgettable fairy tale!
Photography Credit: Anna Guziak Photography 
Stay Flawless,