Chicago Bridal Hair and Airbrush Makeup Artist, Diem Angie
With summer around its way, you must remember to stay hydrated! Water is crucial if you want to have that flawless skin. Remember to  use plenty of sunscreen with a SPF of at least fifteen to block out those UV rays that can damage your skin and cause premature aging.
Number one rule?
Do not wear too much make up. This is not good for your skin since your skin needs to breathe in the summer time.
Below is an example of how your skin should look:
"Truly modern makeup should enhance a woman's look without ever dominating or masking her own beauty or personality." Francois Nars
If you want to hide a blemish, foundation can be your worst enemy. Instead of foundation, you can replace it by using  a tinted moisturizer to reduce getting the summer make-up meltdown. If foundation is mandatory for your everyday procedure,  here is one thing to remember:   Foundation is all about quality over quantity.  I have seen people apply heavy layers of foundation  to cover their skin faults but in fact they create a thick mask that will make them look older than they are. Bottom line? Don't settle for cheap foundation. If you really care for your skin, invest in a good foundation.
So what is the best tinted moisturizer?
I would have to go with Nars Film: Pure Radiant Tinted Moisturizer.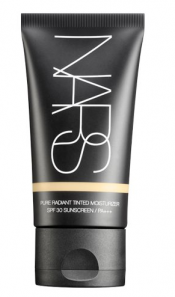 Oh, did I mention that it also has SPF 30?! How awesome is that?!
This product is FABULOUS! I love NARS in general and decided to try this one out — I'm so glad I did! One of the best tints on the market. Lightweight, light to medium coverage. Essential oils for hydration, SPF & PA and the tint is actually a skin brightener! It also gives me a healthy J. Lo glow! If you apply Nars Orgasm on top of this, it will be orgasmic!  $42 is definitely on the higher end, but hey it's Nars and I promise you won't find anything better!
What is your favorite Tinted Moisturizer?
For questions or booking: Email me below:
[contact-form-7 id="3120″ title="Contact"]