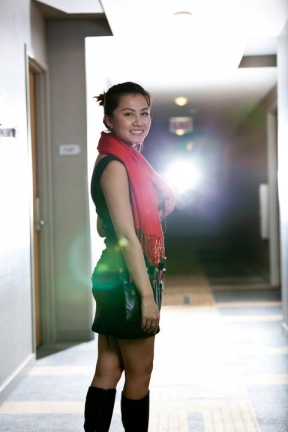 Hi, I'm Diem Angie the owner behind this magnificent business! I'm one of Google's top Chicago hair and makeup artist  && for that, I am forever && always blessed. I graduated from Technology Center of Dupage with a cosmetology license in 2008 and in 2012 I obtained my marketing degree at University of Illinois at Chicago. With a cosmetology license  & marketing degree under my belt, my business has blossomed and bloomed into the business that it is today.
I first started doing hair and makeup at numerous salons however I was never satisfied.  I wanted to do something bigger—I wanted to travel…. I wanted to work with my own clients, meet celebrities, see my name in lights, and most influence people.
I have worked with models from America Next Top Model, Maxim Models, Playboy Models,  Miss USA, Miss Canada, Miss. Virginia, Miss Illinois, celebrities, singers, T.V companies, agencies, and brides brides brides!  I absolutely enjoy making my clients look beautiful and I'm obsessed with the beauty industry && makeup.  If I were to die, I hope my friends and family will bury in makeup… does that sound too obsessive?
Besides doing hair and makeup, I also own an on-location tanning business. Check it out here: www.chicagobodyspraytan.com  . && Guess what? It is also #1 on Google!
I'm also an aspiring photographer.  I will never call myself an expert and I probably never will.  I love shooting engagements, boudoir sessions and everything else!  You probably won't find me shooting a wedding anytime soon though!  You can check out my photographer website here: www.diemangienguyen.com/photography
I like to keep myself busy and I know that I will open more businesses in the future. Can't wait for what is in store! The sky is the limit right?
I can 101% say that I love being an entrepreneur  &&everything that has to do with it.  I love clients, traveling, and most importantly my supportive fans. I would not be where I am without their continuous support.
 To my new fans and clients:
 Thank you for stopping by and checking out my website. I hope that I can one day work with you and be a part of your life.  If you need my services for anything, please don't hesitate to contact me.
 Here is how you can reach me:
Email: DiemAngie@gmail.com
Phone: 1630.835.3094 ( I'm text friendly)
  Hope to hear from you soon gorgeous!