Chicago Bridal Hair and Makeup Artist, Diem Angie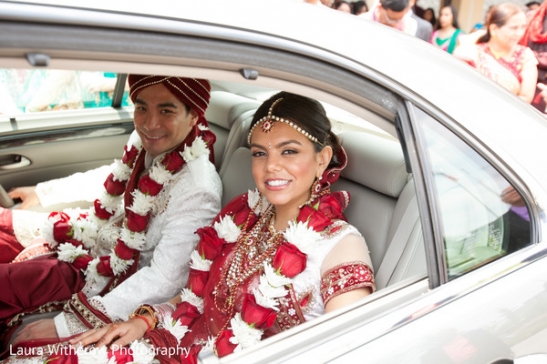 Upon receiving an email to request hair and makeup services for one bride and seven bridesmaids to be ready by 7:30am on July 19, 2014 all of the voices in my head screamed out in fear. The team and I were really hesitant initially, but after having a conversation with Roshni on the phone, the little voices in my head cheered in excitement. Roshni was so cool and friendly during our conversation that I couldn't wait to meet her!
Fast forward to the trial and I was head over heels over Roshni. She was super prepared with looks that she wanted so only minor hair tweaks of a sleeker, clean look was needed for the day of. (a makeup artist's dream come true!)
Hair Trial: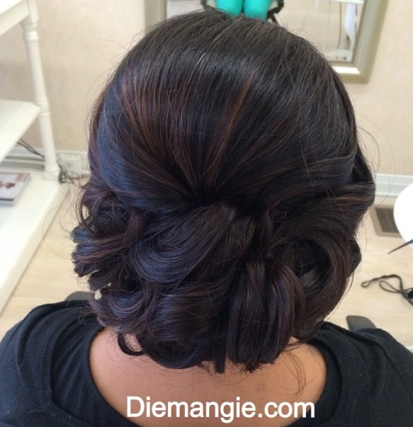 Wedding Look: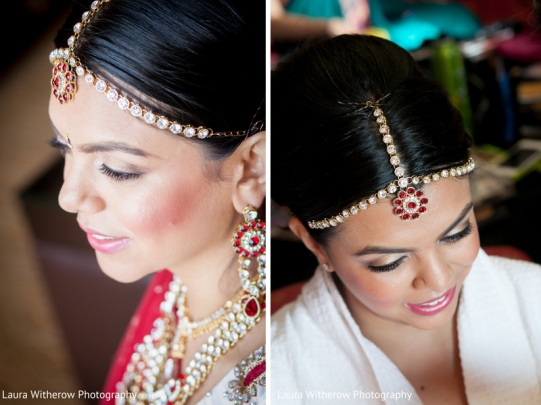 Reception Look: 

Okay.. back  to the main problem: a 7:30am finish time for 8 people with hair AND makeup would realistically mean that we would start at 3:30am. The thought totally scared Roshni, so we came to an agreement of 5am starting time. So with that, I arrived with 4 other hair and makeup artists at the Marriot in O'Hare equipped and prepared to glam up this huge bridal party. With the large number of girls, we were prepared for disorder and delays, but these girls were on point! Everyone was on time and organized! Somehow we even finished the whole bridal party a little shy of 7:30am.
Thank you for being prepared ladies!! <3

I have a ton of things to gush about Roshni

One: Doesn't she look like Mila Kunis?! I couldn't stop freaking out over the resemblance!
Two: She referred me to her bridesmaid Laura. I just did her hair and makeup in RIVIERA MAYA! (sigh..i'm seriously missing their margaritas !!)  I cannot wait to   blog about her wedding.
Three: Roshni also recommend me to another bride that I will be working with in October.
And if you think that's all……
Four: Miss Roshni, played matchmaker for my now boyfriend and I! LOL…. ok, I'll stop there.. 😉
To sum this up = Roshni is pretty darn amazing! 
Roshni & Erik's amazing wedding was featured on Maharani Weddings , a great source of inspiration and information for South Asian Weddings. We are also a "Platinum Vendor of Maharani Weddings", so make sure you check us out!


A million thanks to Roshni and Erik for letting my team and I be a part of their wedding day.
Photography Credits: Laura Witherow Photography 
XOX,