Chicago Bridal Hair and Makeup Artist, Diem Angie 
Hello Urban Decay lovers! What time did your Smoke Palette newsletter arrive in your inbox? Mine was at 7:36am! Now that is a good morning wake up call!  I don't know if this is truly the biggest thing since Naked.. but it is better than– coffee/breakfast in bed.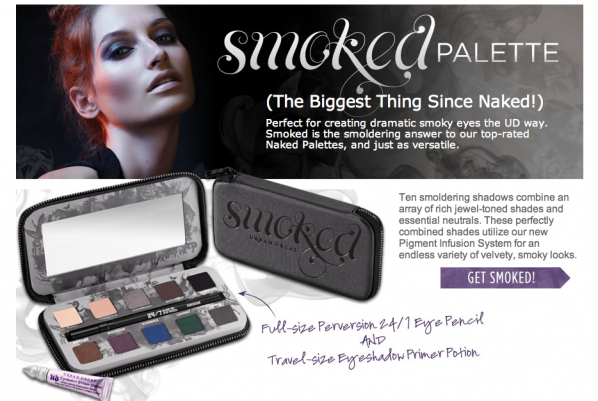 Price for this bad boy is: $49.
I currently have this item on my shopping cart and debating if I should order it. Now here are my reasons of likes and dislikes. I'll start with my dislike..
DISLIKE 
1. $1 dollar away from Free Shipping. Now I have to order another product to qualify. Way to play with our mind  UD!
2. I own a majority of the colors. This pallet reminded me of Urban Decay Book of Shadows (okay, slightly different– but comparable!) I got my Shadows book for $26- Steal!
Reasons why I would
buy

it.

1. I love Urban Decay. Their shadows feel like butter, pigmented and long lasting.

2. The colors that I don't own is: Rockstar, Evidence and loaded. I could purchase the colors separately but I am a palette girl and hate carrying around single eyeshadows. Also,  the price for just one is $17. I will get a better value buy purchasing Smoked. Plus, you'll get a full size Perversion 24/7 eye pencil and a travel-size eyeshadow  primer. The Perversion hands down is the best eye pencil!

After writing this review–I think I just answered my own question.  I am going to order Smoked!  If you are new to Urban Decay, I highly recommend Naked 1 and dun dun dun.. Smoked Eyeshadow . Can't wait for this bad boy to come in the mail!

last thoughts before I end this blog.. Get Smoked!

Happy Monday!