Chicago Bridal Hair and Makeup Artist, Diem Angie
This blog is special because I'm typing this while I'm in Aspen, Colorado! I took a day off boarding since my legs are SORE!!! 2 days and I'm burnt. I don't know how people can shred for 5 days straight… (this just shows how athletically fit I am)  BOO!!  Snowmass was incredible!! Long runs, 55 degrees and fresh powder in April—-who can complain?  It only took me 2 seasons to learn how to connect my turns.. but most importantly,  ride right! I also attempted a few butter boxes and now itching to try a jump! (Okay okay, I'm just kidding.. but it's on my bucket-list) Overall, my trip to Aspen has been phenomenal.  I'm super super super sad that the season is over!  I hope I can obtain everything I learned from this trip and rock on for next season. Until then, I'm waxing my board and hibernating Polka (my board).
Anywho, back to the topic of brides snowboarding!! Wherever I go and no matter what I do, work is always on my mind (even when I'm on the mountains–10k up).   Sitting on the lift, I thought to myself… "How cool would it be to do a photo-shoot with my brides snowboarding?" I thought I was the only one with this clever idea but to my surprise, its already taken! I love creative brides!!!!
How sexy is this?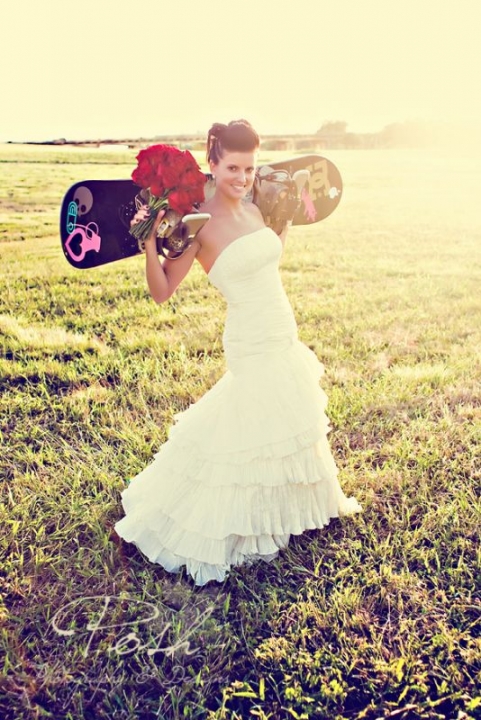 I hope to one day shred down the mountain with my wedding dress… or capturing a bride will be fine too 🙂
xox, DA