Chicago Hair and Airbrush Makeup Artist, Diem Angie Nguyen
I don't know about you, but I am counting down the days till S P R I N G!! Spring is when you ignore your regular beauty rules, and try something daring!!  I have been itching to try something vibrant/neon on my eyes. Now that I think about it, I may have Nicki Manaji fever after seeing her on the cover of Spring Mac Viva Glam with Ricky Martin!  If you do not know what I am talking about below is a picture.
Nicki Minaj and Ricky Martin are teaming up with MAC to launch Viva Glam. They are also launching a new campaign to bring HIV/AIDS awareness to Latin America. It is slightly odd that out of all the divas out there, these two are now working together! Their personalities are so different! Go team M&M!!!
 So back to the topic of spring.. What color are you going to rock this year? I have been searching endlessly for a perfect spring palette and I think I found the one!
 The winner is: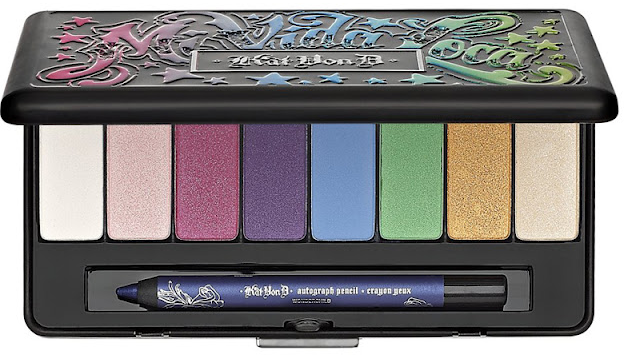 Kat Von B
True Romance Eyeshadow Palette – Mi Vida Loca Palette!
 The colors in this palette is very similar to what Nicki is wearing, the only difference is she that she is wearing M. A. C cosmetics! Instead of buying individual shadows from Mac, save yourself some time and purchase Mi Vida Loca instead. Plus, you're going to save yourself some $$$ (who doesn't love that)!! If this is your first time hearing about Kat Von D, you are missing out!! Her product line is amazing! Get on it!
 So here are my reviews about Kat Von B Mi Vida Loca Palette :
 This set contains:
 -Swan Song (iridescent pearl)
-Marya (shimmery vanilla)
– No Regrets (shimmery gold)
– Drama For Yo Momma (shimmery kelly green)
– Mad Max (matte sky blue)
– Dublin (iridescent purple)
– Sparklehorse (hot pink purple sparkle)
– Altruism (pearl soft pink).
– Wonderchild (electric blue)
 The shadows are rich and well pigmented. It applies easily and evenly, with beautifully intense color. But that does not mean you can skip out on a primer! Remember to always use primer—no matter what brand it is!
 I've loved every single Kat Von D palette I've gotten and Mi Vida Loca is super fantastic. While I love my neutral/naked/nude palettes and shades, I am ready to try something different!  Mi Vida Loca is fresh and fun. The shades are breathtaking and took away my winter blues. Whenever I open my palette, I know that spring and summer is on the way. There's so much that can be done with the shades in this palette.
 What more in a palette can you ask for? Plus you get 1 free purple Autograph Eyeliner! Endless possibilities!  You can purchase this palette at Sephora—Get yours today—Spring will be here before we know it!!
If you have any questions or would like to book Diem Angie Nguyen, please email her below
[contact-form 1 "Contact"]
Got your favorite Spring dibs? Spill below!