Chicago Bridal Hair and Makeup Artist, Diem Angie 
I get it, most women are afraid of red stick. Red is a bold choice of color and if you normally don't wear makeup it will automatically make you feel like you're wearing a lot of makeup. If you do apply it correctly, it can get on your teeth, you'll look overdone or look cheap.
 Once you learn and master the skills of applying red lipsticks, you'll kiss your other color good-bye!
 When wanting to make a bold statement lip, there's nothing better than using a red lipstick. It can help to make your teeth look whiter, it makes you feel attractive and confident, and most importantly it's a classic. Can you tell? I love RED LIPSTICK
 Here's a Tutorial on how to Apply Red Lipstick without smudging or staining your white pearls.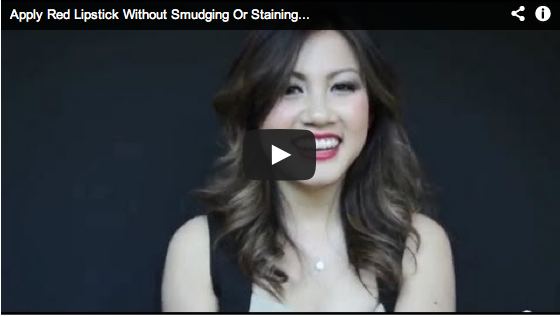 Can't watch the video? Click HERE
 Here are the steps!
Products that I used for this tutorial:
2) MOTIVES LIP CRAYON in Retro Red
3)Mac Retractable Lip Brush #318
4) Urban Decay's Super- Saturated High Gloss Lip Color in F-Bomb 
5) Small concealor Brush
7) Makeup for Ever Full Color Concealer #6
8) Small Eyes shadow Brush
9) Ben Nye Bannana Luxury Powder 
 Steps:
1) Apply Lip Balm to moisturize your lips
2) Line your lips
3) Apply your choice of red lipstick
4) Use concealer to clean any mistakes
5) Powder