Chicago Bridal Hair and Makeup Artist, Diem Angie Nguyen
Okay, first I want to say that I love Urban Decay and would die if it was not for the urban decay primer and of course their Naked Palette. However, Urban Decay 15th Year Anniversary Eyeshadow Collection is a disappointment and I walked away feeling very distasteful. I guess you can argue with me if you love this palette. I have to admit, it does have some popping colors–but you can find similar colors from UD and really, the  only "new" colors are : Junkshow and Deepend !  (I will complain about this palette later).
 A year ago, Urban Decay launched their limited time Naked Palette ( MY ALL TIME FAVORITE). You can read more about Naked  HERE!  I guess the reason why I love Naked is because it is a hit for all brides. You can achieve a very natural look to dramatic in one palette. All of the colors are pigmented and the shadows feel like butter!  Of course Naked  is hard to beat, but com'on UD you could at least come up with a name instead of naming it "15th year anniversary". Well, at least their packaging is somewhat decent, for $55 you can get a extra box instead of a liner or primer?… give or take I rather take free makeup instead.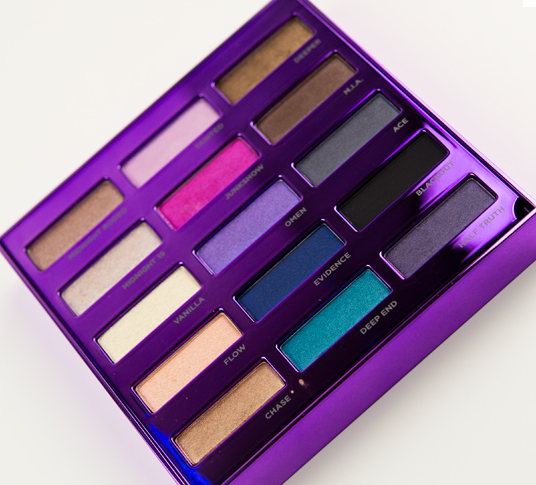 So you are probably wondering, why all the fuss about this? Again, I hate being disappointed especially since  I am a huge fan of UD! I hope they read this! (rare chance, but there is a possibility!)
The only reason for me to purchase this palette is if I need some colorful colors to play around with to achieve numerous looks…. UD single eyeshadow is $17, so for 15 colors in one palette for $55 is a steal.
Now onto reasons why I think Urban Decay 15 Year Anniversary is useless. (Again, these are my opinions and I am basing it on my preference. If I was a runway makeup artist, I would probably love this palette, however for bridal is a huge NO NO! ( I would just stick to the Naked Palette ). Well this palette would not be good for runway either!  If you want to argue with me, lash out below by commenting!

)
1. Like I stated earlier, some of the neutrals are very similar to ones in the Naked . The ones that are similar are Chase, MIA, Deeper, Ace, and Blackout  (they are not exactly the same but close enough.) The neutrals are shimmery and I would love it if there were more matte shades. It would be a great palette for any look if there were just 2-3 matte shades, but as it is sometimes the shimmer in the neutrals can be overpowering.The only "new" colors are Junkshow and Deepend.. and to be quite honest, I think the two colors are dreadful. (Again, this is my preference so feel free to argue with me by commenting below.)
2. Fancy packaging, but the box collects fingerprints and the hidden space is difficult to open without risking damage to the shadows. Since it is their anniversary, I would think a free gift would go along with it — But nope, you just get a fancy box.
3. The main reason why I am dissatisfied:   The eyeshadows dont exactly act like Urban Decays normal line of shadows!! UD is well known for their high pigments and silkyness, however I noticed some of the colors in this collection is chalky! So beware of the fallout!
Bottom line, if I did not already own Naked plus a few other UD palettes with bright shades this would definitely become my favorite one, but as it is I wish some of the neutrals were different and that there were more matte neutrals included. If you don't have Naked, go get it and skip out on this one!  I wished UD came out with a better launch, this collection is not  like them. Let's see what they do next year, I pray they can come up with something better than this!
If you are looking for a HAWT palette and for the best deal- I highly recommend Tarte Tarte for True Blood.  The best part? It is only $52!!!!! It is such a  STEAL since it is over a $300 value!! Here is a comparison to the UD 15 year Anniversay Collection. Which one would you purchase? Hehe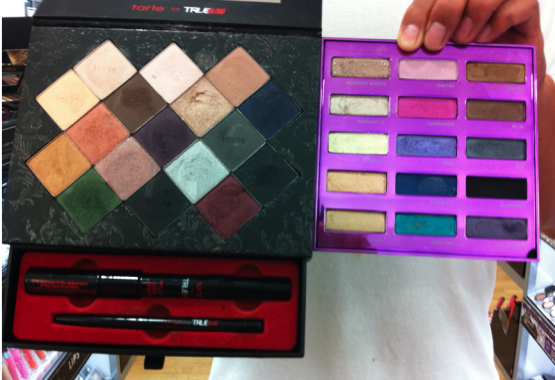 Here is what comes with it. Again, it is only $52!
True Blood Eyeshadow Palette
Lip Surgence Natural Lip Tint, Natural Cheek Stain, Black Aqua Gel Liner, Deluxe Mascara and Deluxe Eye Primer!
Get it now while you can

For more information or to book Diem Angie Nguyen, please email her below:
[contact-form 1 "Contact"]