Did you know that Serum is an important step of basic skin care && should be applied daily, just as we apply moisturizer??
Truth is a majority of my clients have no clue what serum is!
Yikes! Serums can treat skin conditions such as redness, wrinkles, discoloration, dehydration, sagging and help prevent acne. If used daily, it will add nutrients to your skin better than moisturizer alone. Think of it as a multivitamin treatment for the face!
My  favorite is :: Olay Regenerate Daily Regenerating Serum!!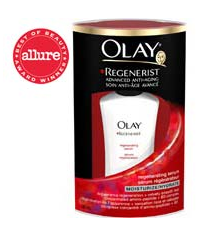 I usually do not haul on drugstore products, but this is a must! Best part? It is one of Allure "Best of Beauty Award Winners". Occasionally I may stray away to other products but I always come back to it. $20, for 3.4 FL. OZ/100mL is beyond C H E A P! I love the texture and it makes my skin silky soft without feeling greasy- just young and soft and full of moisture. I don't have any wrinkles, so I can't comment on its effectiveness in that category but it does give my skin a nice glow 🙂  What's not to love ?
DING DING, Olay Regenerate Daily Regenerating Serum might not be a good fit for you! The best Serum will depend on the condition of your skin and what you would like to achieve. So what is the best serum for you? What does your Serum say about you?
Before I end this blog, i'm going to leave you all a friendly Serum tip to achieving a flawless face! A happy face is a healthy glow.
1. Apply the face serum after your toner has fully dried.
2. Apply tiny dots of face serum all over your face and blend lightly.
3. Let the face serum dry completely. This will normally take about three to five minutes.
4. Apply your moisturizer.
 5. Let everything sink in before you apply your foundation.
What is your favorite Serum?