Chicago Bridal Hair and Makeup Artist, Diem Angie 
When you hear the word "Dry Shampoo" do you automatically think of nursing homes or hospitals? I sure did! I remember my grandma used it while she was on radiation. I kept thinking to myself…. how is it possible to clean your hair without getting wet… &&& ewww, the shampoo smells awful!! ?? 
Years later, after using it for myself…. I now think it's the best invention!!! 
Dry shampoos have been around for a long time, they have undergone a good beauty makeover in the past couple of years. Now there are new refreshing scents, volumizing agents and tinted formulas. The beauty of dry shampoo is that it can be applied anywhere and only takes a few minutes to get the perfect hairstyle. It'll clean up dirty/ oily hair and refresh smelly locks in an instant—all without the need for traditional shampoo and water. What's not to love??
Overwashing your hair can dry it out and cause hair color to fade. Trust me, it is painful to watch your color fade after spending so much $$$ to get the color 🙁.  To preserve your color and maintain moisturized, sleek hair, it is best to wash your hair only 2-3 times per week.
There are basically two types of dry shampoos: ones that come in a loose powder form and ones that come in an aerosol (spray) form. Powder dry shampoos can be applied directly on to the scalp from the bottle and either brushed through or massaged in using your fingers. Dry shampoo aerosols can be sprayed directly onto the scalp from a few inches away and likewise may need to be brushed or massaged through the area.
If you haven't taken the plunge and tried dry shampoo, or tried it and wasn't thrilled with your results, try it again.
Here's why I love it!
1. Too busy to shower ( sad, but it happens)
2) Prolong the life of my color
3) Adds volume
4) Great for after the gym (it will absorb all the sweat and oils and leave your hair smelling fresh)
4) I can keep my blowout for another day 🙂
What I'm currently using!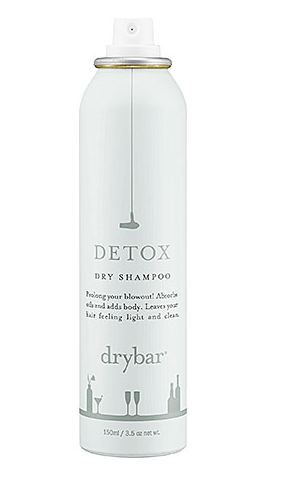 Detox Dry Shampoo ($20) is good for giving back that clean feeling and look.
If your main concern is oily hair then this is for you! I have extremely oily hair the very next day after washing and this makes it look like freshly cleaned hair. What sets this a part from other great dry shampoos though is that there is no heavyness in the hair or stickness left over after using it.
It does not provide a lot of volume for me but then again not many products do since my hair is straight and bulky.
Overall it is a wonderful product – I would only switch to the same thing but with no scent.
Ohh, one last thing:Just be careful to not spray it too close to your head and to comb it through with your brush or fingers. Otherwise it could lease a whiteish coloring like baby powder.
I'm going to give this product…4 out of 5 stars.
 Do you use a dry shampoo?  If so, what are some of your favorite brands?