Why are Bridal Trials so Important? 
Bridal hair and makeup trials are  often overlooked.. why? I don't quite know. Trials are nothing to be skipped!! Remember, your wedding photos will last forever! I cannot tell you the number of brides who have come to us with a trendy bridal look and during the consultation completely change their mind. The advice I always  give my brides is to go for a classic, timeless look that will be beautiful not only today but in the years to come.
Why is it so important? When looking for a makeup and hairstylist  for your wedding day it is so important to work with someone that you feel comfortable with. You can read their  endless 5stars reviews and portfolio online, however when you meet with them 1 on 1, you'll know when you both "click".  You want  feel confident that your artist will make you look and feel the very best.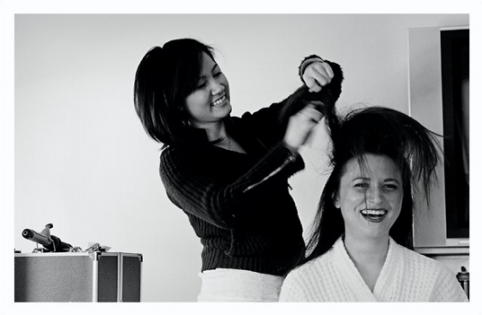 Second, a purpose of a trial is to work out all of the details of how you will look on your wedding day. Trials make things easier for both the bride and the stylist because everything is spelled out.
Trials for the stylist will allow us to determine exactly what products we will be using for your look, how much or how little we need. Trials are designed to figure out exactly what look you are hoping to achieve, and we are there to create your vision.
For the bride, your 2 hours with us we will guide you to the perfect look for your wedding day.
Love, DA
– – – – — – – – – – – – — – – – – – — – – – – – — – – – – – – – – — – – – – – – – – –
If you're thinking about booking your bridal hair & Makeup trial appointment , keep these key considerations in mind to get the most out of your session.
Book in advance:
Aim to book your hair trial roughly three months before your wedding date. This will allow you enough time to feel prepared but not too long that you'll end up changing your mind. Arrive at the appointment with clean hair so that your stylist doesn't spend most of the session washing and blow-drying.
Schedule both your hair and makeup trial on the same day:
If possible, book your wedding hair and makeup trial for the same day. This will give you the best possible indicator of how your hair and makeup will look together on your wedding day. If you can't book your makeup trial for the same day, apply your own makeup to look and feel the part.
Take Pictures
Bridal hairstyles vary from the super-sleek and polished to soft and romantic. Take snapshots of your dress, flowers, venue, or any other details that will give your stylist a better understanding of the aesthetics of your wedding. Pinterest boards, beauty websites, and bridal magazines are great places to seek hairstyle inspiration.
Bring Accessories
If you intend to wear a tiara, a flower, or a bridal comb, it's essential to take them along to your trial session so that your stylist can incorporate it into your hairstyle.
Go Out
Arrange to go out for dinner or drinks on the evening of your  trial. See how your hair & makeup holds up throughout the afternoon and evening. A long-lasting style is an important factor when considering bridal hairstyles. Plus, why waste the hair and makeup? Show it off!