Chicago Bridal Hair and Makeup Artist, Diem Angie 
After being in the beauty industry for 5 years, the second most important thing next to your products is your makeup bag.  Makeup bags comes in all shapes and sizes—therefore it all depends on how much product & space you'll need. For being only 5'ft & weighing 100 pounds.. I need a bag that is light and easy to carry around.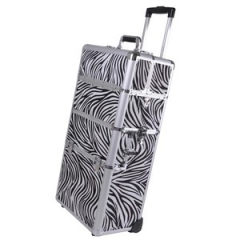 When I first started doing house calls, I had the big aluminum rolling bag  (I HATED IT)… It was too heavy, the wheels sucked, the compartments were too small, and it took a lot of room. Now that I think about it, it was probably my was my worst investment.
I later upgraded to a Zuca Bag. Love love love it!  The storage capacity is amazing and I  can fit all of my products in it. I always get least one comment from someone when I'm rolling it around town. The price is steep… $300+… but I'm not going to complain especially since I'm always on the go. Best part? You can sit on it!
Just when I thought Zuca had it all.. I came across the Travelon Total Toiletry Kit and have been using it since! The TTK is seriously perfect and weights less than the Zuca. Want to see what the hype is all about?   Check out the video below!