Chicago Bridal Hair and Makeup Artist, Diem Angie
I thought Vietnamese/Indian weddings were vibrant– boy was I wrong! Cambodian weddings (Kris and Lolly's) heaved my theory out of the ballpoint! Lolly booked me to do her hair for the morning of  her cermoney. I think the reason why I was so jumpy that morning was because this was my first Cambodian wedding! Everything that came out of my mouth was "ohhhhh, wahhhhh".  The photos below are from Mandevsidhu Photography . Since I did get attend the ceremony, just reading the description and looking at the photos was breathtaking.  The photos are brilliant! Thank you for capturing the finest details and sharing every moment with us.
Mandevsidhu Photography, please do not sue me for what I am about to do! — Again, this is my first Cambodian wedding therefore I am going to copy the wedding details and share it on my blog as well! Although you guys are based in Seattle, I hope I can work with you guys again. Hello my future brides, contact them now

. Enjoy the photos and wedding details of a traditional Cambodian ceremony! Thanks again Mandevsidhu Photography !
– – – – – – – – – – – – – – – – – – –
Taken from: Thanks again Mandevsidhu Photography
" This is part two of Kris and Lollie's Chinese-Cambodian Khmer wedding ceremony, which was held at the beautiful Piper Hall Mansion at Loyola University in Chicago.  Part 1 described the groom's processional and hair cutting ceremony, and these photographs show the Monk's Blessing (Soat Mun), Pairing Ceremony, and Knot-Tying Ceremony (Sompeas Ptem)."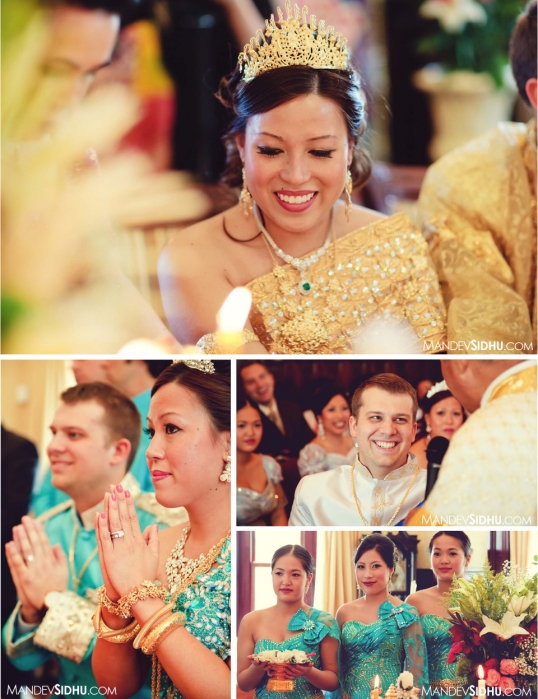 Honoring the Parents
Kris and Lollie honored their parents by thanking them for the hard work of raising a child.  They also acknowledged their duty and responsibility to take care of their parents for years to come.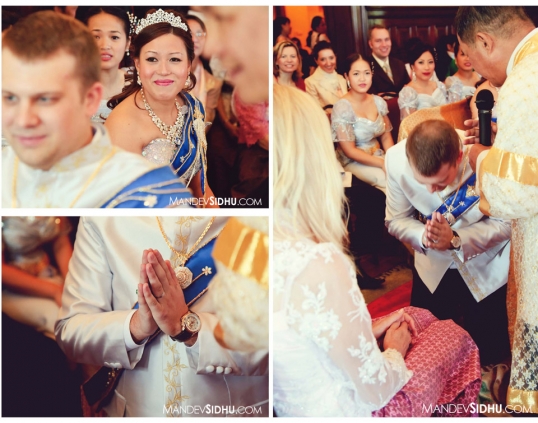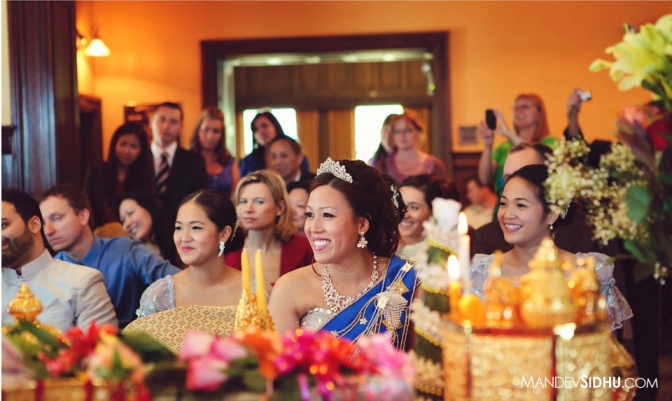 Monk's Blessings  (Soat Mun)
During this ceremony, Buddhist monks blessed Kris and Lollie by sprinkling them with flowered water while chanting specially selected blessings.  During this peaceful ceremony, Kris, Lollie, and guests, remained very quiet with their heads bowed and hands folded in prayer.


Monk's blessing during Khmer wedding
Pairing Ceremony and Knot-Tying Ceremony (Sompeas Ptem)
The Pairing Ceremony was the final and most energetic stage of the wedding. Family members and friends tied Kris and Lollie's left and right wrists with blessing strings. The praises of happiness, good-health, well-wishes, success, prosperity and long-lasting love are acknowledged and witnessed by a loud gong and joyful cheer!
During the knot-tying ceremony (Sompeas Ptem), friends and family came forward to bring their best wishes and blessings to Kris and Lollie by individually tying red strings around each of their wrists. These knots were tied on both the bride and groom, and were worn for three days afterwards to preserve good luck.
While Kris and Lollie's wrists were tied with the blessing strings, the following song was sung:
"We tie, we tie three strings to each wrist of our children.  We wish for true happiness and success to this couple, who will always be together like wet grass seeds.  We tie your left wrist to make you remember your parents.  We tie your right wrist to make you carry on the family lineage and traditions."
The ceremony concluded with a shower of palm flowers thrown over the couple. It was a very exciting and energetic part of the wedding. The guests were having fun as they showered Kris and Lollie with white Palm Flowers.






Knot-tying ceremony during Cambodian Wedding. Family and friends tie red blessing strings on the wrists of bride and groom.
Lollie + Kris | All of My Life Teaser
from
Leslie + Dane
on
Vimeo
.
Oh one last thing!  Lolly is the owner of
"The Classic Gem"
.  The
Classic Gem
is located in the diamond district of Chicago. They specialize in
bridal
and engagement jewelry. You can find : Diamonds, Precious Gems, Custom Jewelry Designs in CAD/CAM, Bridal Jewelry, Engagement Rings, Wedding Bands, Anniversary Gifts, and more! I
highly recommend
The Classic Gem!
Good customer

service, friendly, prompt responses and high quality jewelry
!
 For booking or questions, please email me below:
[contact-form-7 id="3120″ title="Contact"]